Future Developments
MediaCity doesn't stand still. In just ten years we have become one of the world's leading media and tech hubs.
In the next few years we'll cement our position as one of the UK's leading innovation zones. And in the coming decade a £1bn investment will see MediaCity continue to grow.  More workspaces, more new homes, more public and green spaces, increased connectivity and tech infrastructure, more inspirational ways to spend precious downtime.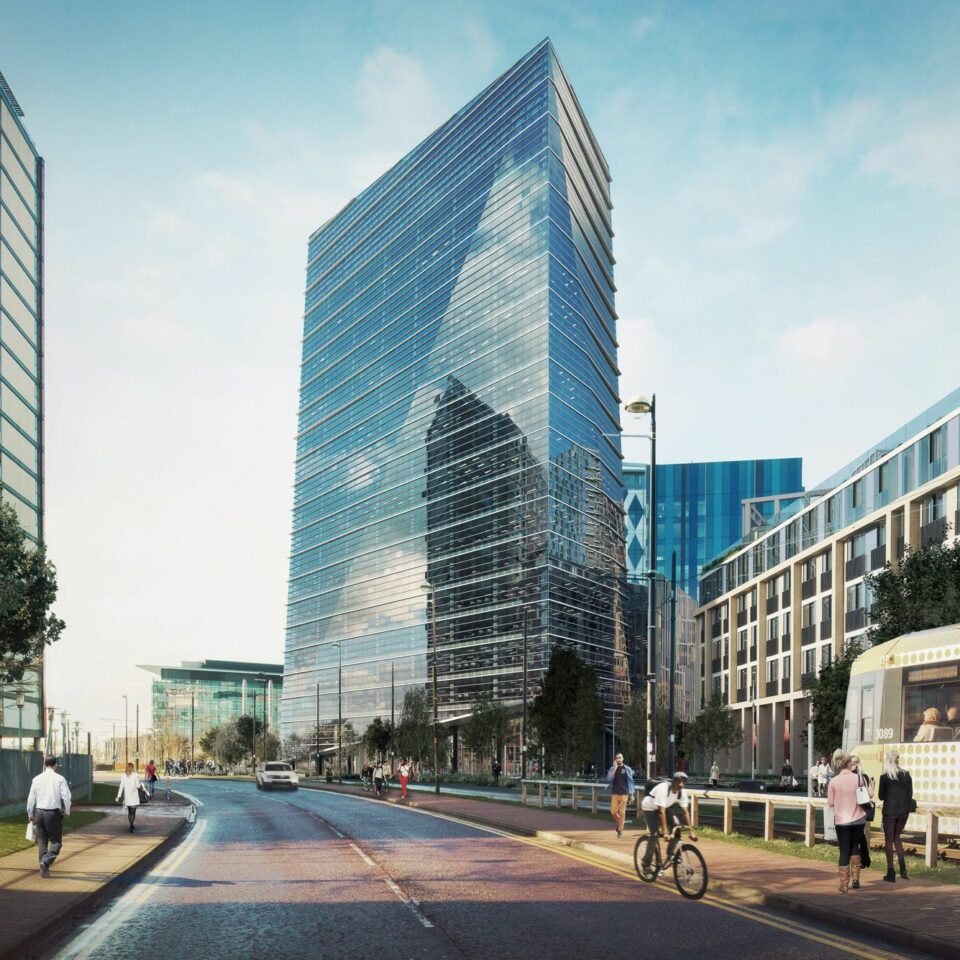 B5 – Commercial
Plot B5 is a proposed signature office building over 18 storeys with views of the gardens and piazza in the heart of MediaCity. The ground floor will provide for high profile, self-contained entrances and a striking retail arcade.
This iconic building completes the crescent on the waterfront at MediaCity and will provide:
BCO Grade A commercial offices extending to 296,500 sq ft (27,534 m2).
Having large, flexible floorplates starting at 25,000 sq ft (2,322 m2) on the lower floors reducing to 15,000 sq ft (1394 m2) on the upper floors, offering opportunities for both large occupiers and medium-sized enterprises.
Ground floor retail of 8,600 sq ft (800 m2).
Positioned off the striking pedestrian arcade and designed to provide a key link through the estate, this offers a mix of unit sizes and is a great opportunity for high quality restaurant/café operators — both established brands and niche operators with a unique proposition.
Pre-let opportunities are available on either the whole or a significant part of B5.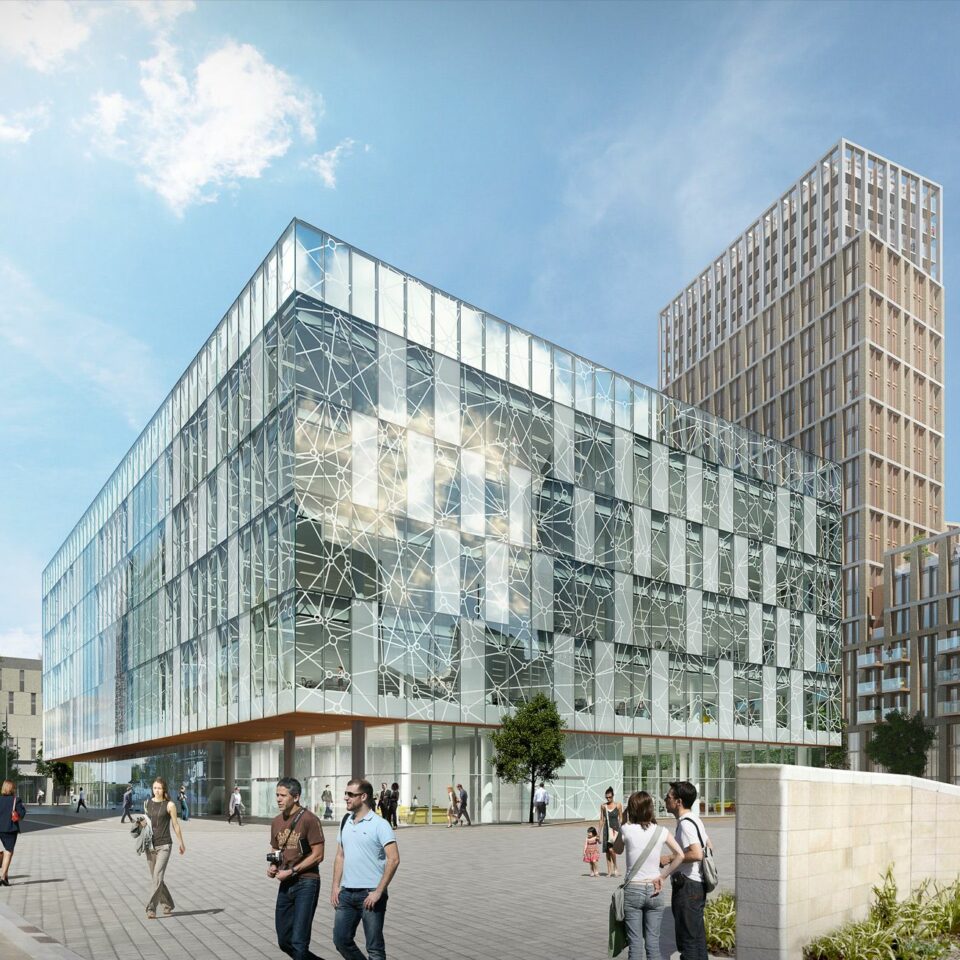 C3 – Commercial
Situated at the heart of MediaCity, this proposed six storey contemporary office building, totalling 97,963 sq ft (9,107 m2), is designed in accordance with BCO Grade A standards. C3 is for those seeking a strong identity and a unique presence at MediaCity.
With a high-profile entrance, a feature atrium and retail at ground floor, C3 will offer opportunities to both large and medium-sized enterprises wanting individuality and brand profile at MediaCity.
Floorplates are large, open and spacious, extending to 20,000 sq ft (1,860 m2) with inbuilt flexibility to allow the creation of smaller workspaces as required.
Pre-let opportunities are available on the whole or a significant part of C3.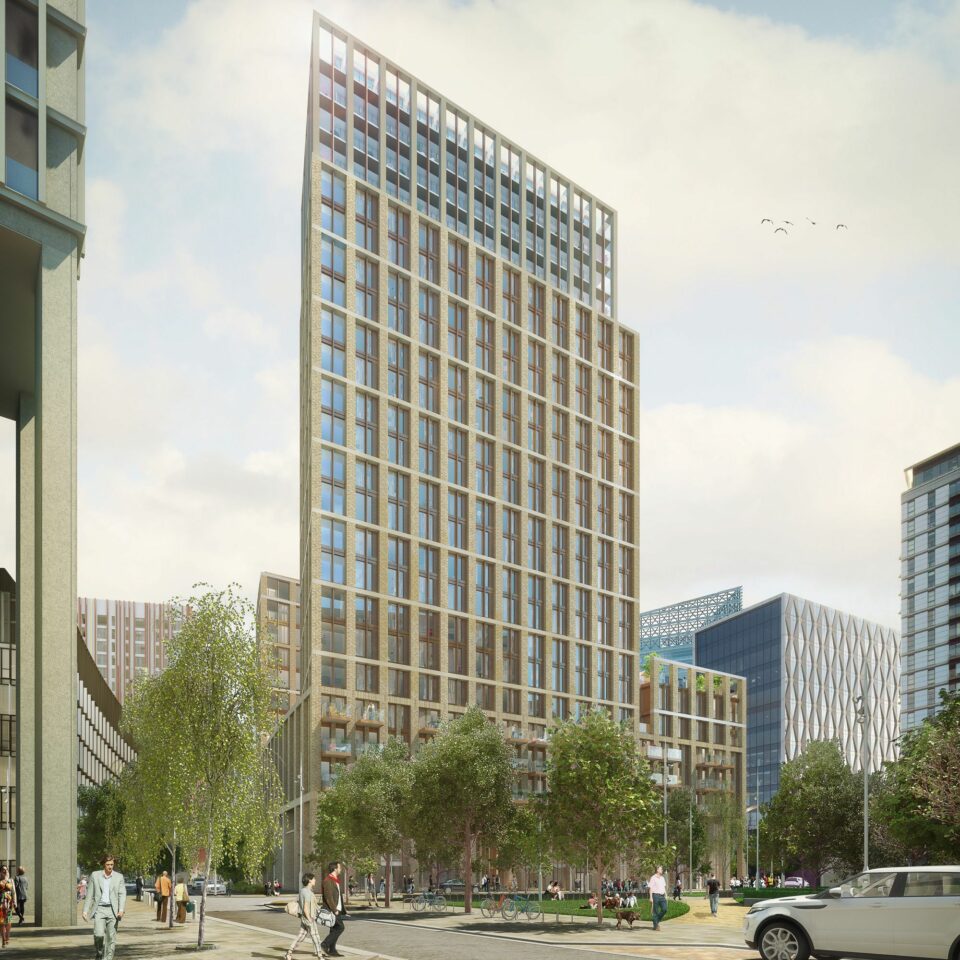 C4 – Residential
Located in the heart of MediaCity with easy access to all amenities and transport links, C4 offers an exciting and vibrant place to live.
The form of the building is simple and contemporary; a podium and towers which complement existing designs in the vicinity. The plot features 286 apartments around a public courtyard; 18,300 sq ft (1,700 m2) of offices for small businesses and 35,500 sq ft (3,300 m2) of live/work accommodation.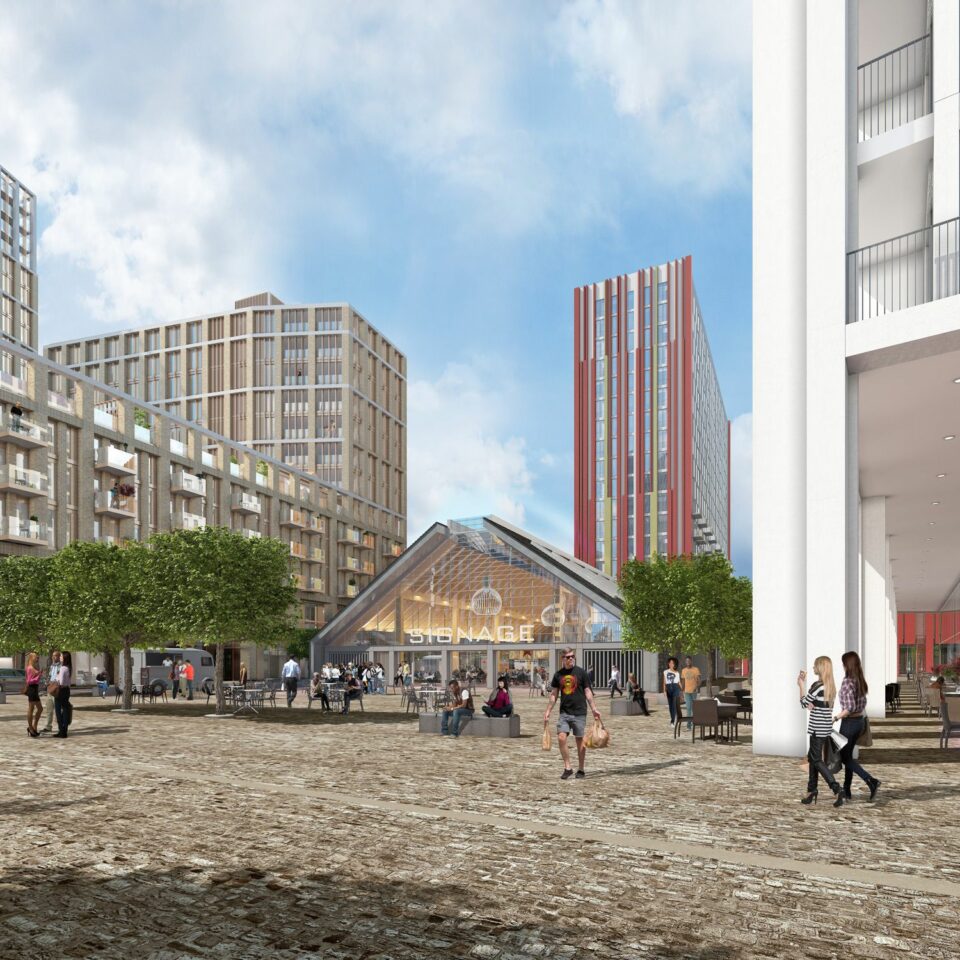 C5 – Leisure
MediaCity is already acknowledged as an exciting and vibrant destination — not only to those already working and living here but also to the wide range of visitors who come to enjoy the regular events, or who just come to relax in the waterside environment.
C5 purposely creates a sense of intrigue and then reveals its function and purpose. The 11,000 sq ft (1,030 m2) plot is to be used for street food markets and events set within a public square.
The entrances are understated, and the internal spaces feature subtle architectural gestures, such as roof lights.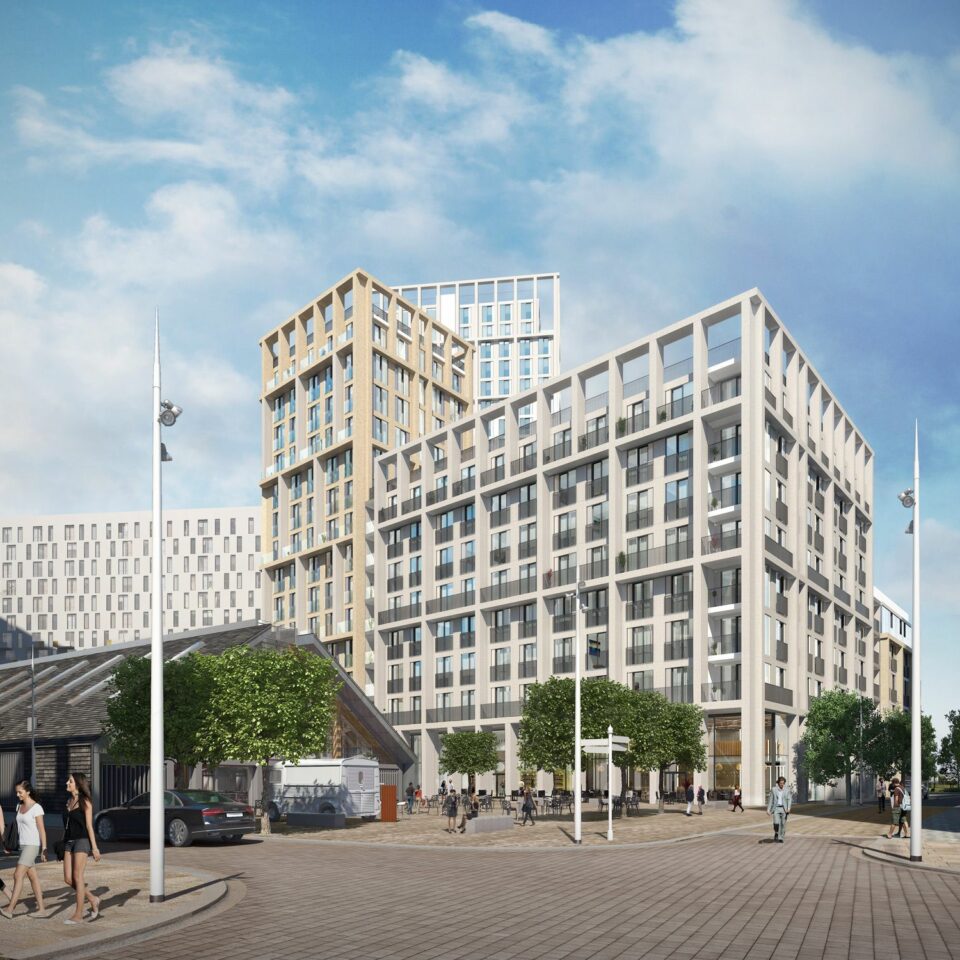 C6 – Residential
Plot C6 is the iconic gateway to MediaCity, particularly when travelling on the extensive Metrolink network.
It will deliver 477 high quality apartments and townhouses and there will be a range of amenities — as would be expected from one of the most significant Private Rented Sector opportunities, available at the centre of a new residential community.
The plot also frames the public square in C5, featuring 9,700 sq ft (900 m2) of retail and leisure space.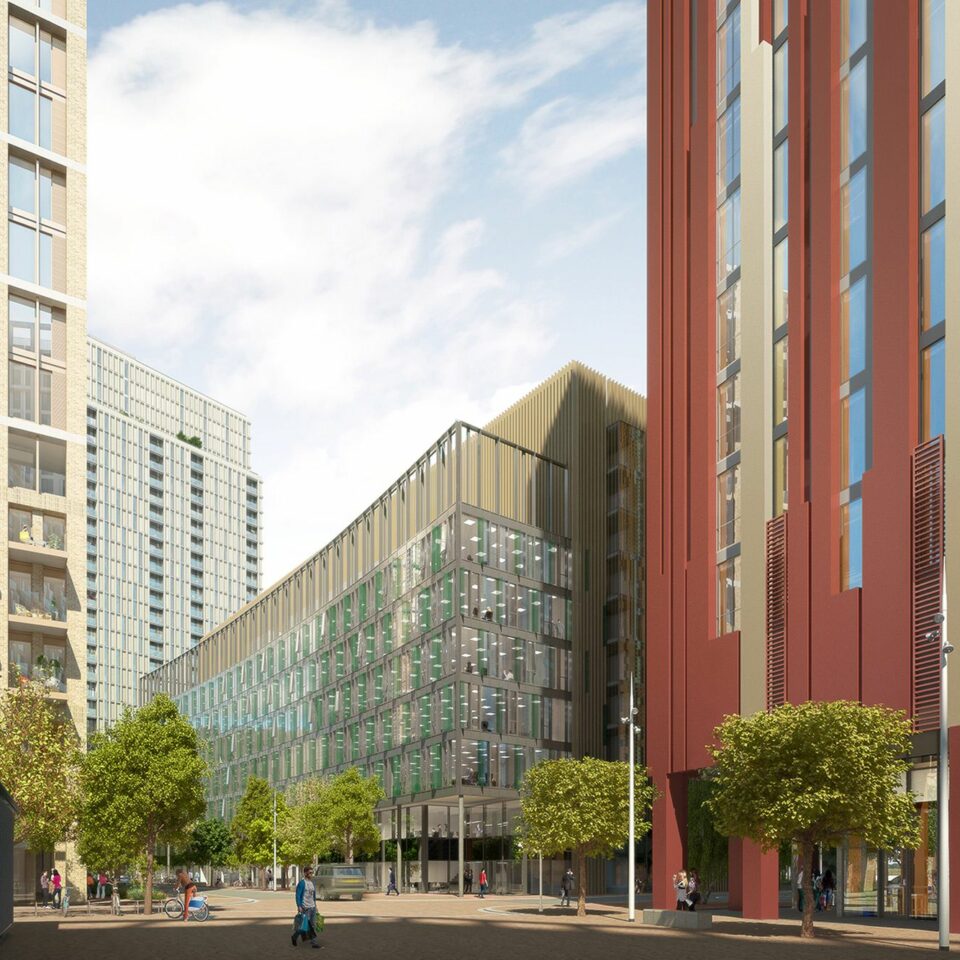 D4 – Commercial
Occupying a strategically important second gateway site into MediaCity, the design of the building responds to the radial parameters of the masterplan with the northern edge offering a striking LED digital wall onto Broadway. The plot features 33,000 sq ft (3,050 m2) of offices suitable for small businesses; 10,700 sq ft (1,000 m 2) of live/work accommodation and a multi-storey car park with 1,052 spaces.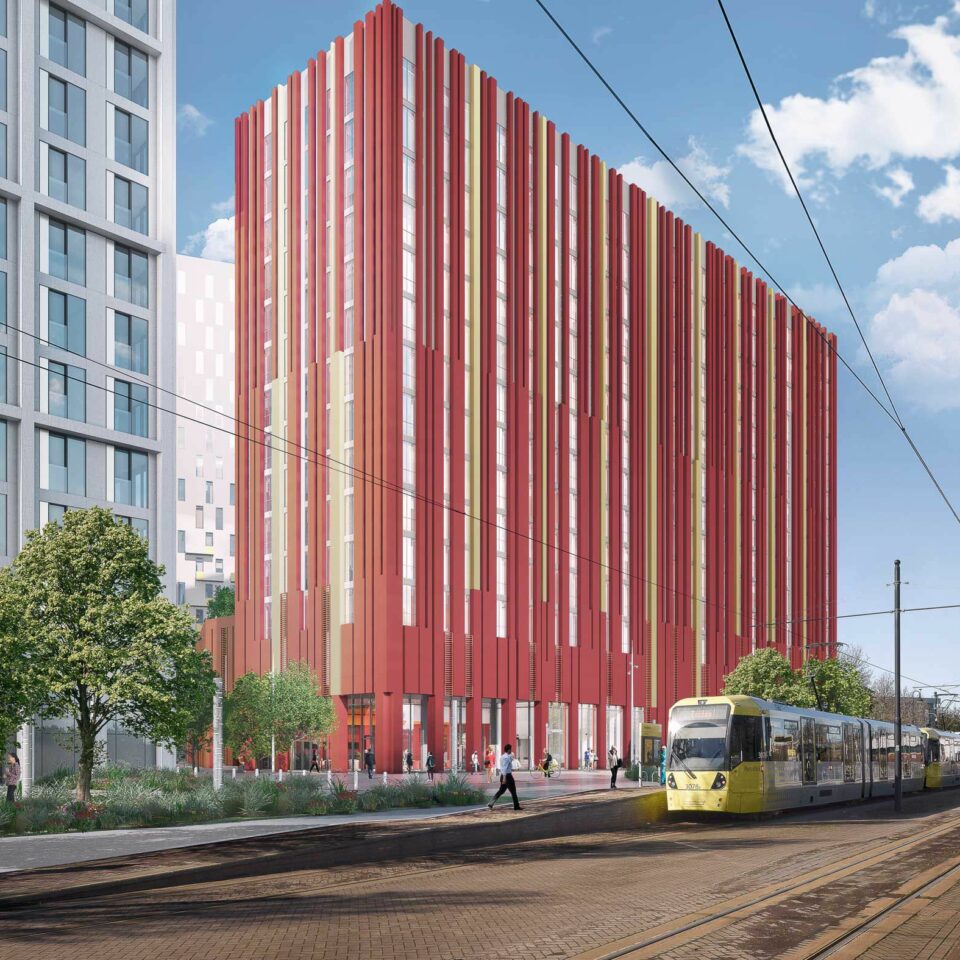 D5 – Residential
Located at the meeting point of the Metrolink and Broadway, D5 is a highly visible and iconic opportunity.
Designed as one of the best Private Rented Sector opportunities, D5 extends to 450 apartments in two towers with a private courtyard in between; 18,300 sq ft (1,700 m2) of retail and leisure space at ground level and a multi-storey car park with 260 spaces.